Rachel Brinker, DMD Performs Laser Gum Disease Surgery in Mill Valley & Novato, CA
Modern Gum Disease Treatment Using LANAP
The Laser Assisted New Attachment Procedure (LANAP®) is a form of laser gum disease surgery that does not harm healthy tissue. Traditional gum disease surgery uses a scalpel to cut away both healthy and unhealthy tissue, LANAP® uses a different approach, more specifically, a laser to remove only the diseased portions. This minimally invasive procedure results in less pain and less bleeding than traditional gum disease surgery. LANAP® gum disease surgery is widely regarded as the highest standard of care available for gum disease treatment, not to mention that patients rarely require pain medication following the procedure. Dr. Rachel Brinker is a periodontist in Mill Valley, California who provides patients with laser gum disease surgery.
Thanks to the advent of the PerioLase® MVP-7™, the LANAP® trained periodontist, Dr. Brinker can remove and kill bacteria without harming the healthy gum tissue. This is because the PerioLase® MVP-7™ is a highly intelligent laser that can easily distinguish between healthy and diseased gum tissue, based on the color and tint. In fact, LANAP® is the only method of laser gum disease surgery that has been cleared by the FDA. It is also the only form of laser gum disease surgery with the science and research to prove its effectiveness.
Periodontal disease is an epidemic that affects millions of Americans each year, yet very few actually seek treatment. This is largely because they do not understand the risk of complications that can arise. If left untreated, gum disease can lead to an increased risk in heart disease, diabetes, and pancreatic cancer. Until now, the only options for gum disease surgery involved the painful cutting and stitching of tissue. With LANAP®, this is no longer true.
Visit Dr. Rachel Brinker in Mill Valley or Novato today to learn more about LANAP® and whether or not you qualify for this modern gum disease treatment.
Call Today: (415) 389-9600
Laser Gum Surgery Benefits in Mill Valley & Novato
An Alternative to Traditional Gum Surgery
The differences between the new Laser Assisted New Attachment Procedure (LANAP®) and traditional laser gum surgery are astounding. There are now many more benefits for the patient who needs laser gum surgery thanks to the LANAP® procedure. These Include:
Faster healing time – Laser gum surgery is less invasive and involves no cutting or stitching. This means that there is a shorter amount of time required for healing.
Less pain – Because laser gum surgery uses no blades or sutures, there is very little pain or discomfort for the patient receiving this gum surgery.
Less downtime – Because there is a very small amount of pain involved, patients rarely require medication following the laser gum surgery. This means that you can get back to your daily routine almost immediately.
Little to no gum recession – Since laser gum surgery does not remove any healthy tissue from the area, there is less recession of the gum line.
Less inflammation – The PerioLase® MVP-7™ will remove bacteria and diseased tissue without cutting the gums. This means that there is less inflammation of the gum line.
Minimal bleeding – With laser gum surgery, we are able to control the amount of bleeding. The laser can be used to create blood clots and stop the blood flow.
Bone and tissue regeneration – Laser gum surgery actually promotes bone and tissue regrowth after the procedure. This means that we can often save teeth that would typically need to be removed.
Less risk of infection – Because there is less bleeding and a shorter recovery period, laser gum surgery has a small risk of infection. This makes it more predictable with less chance of complication.
The LANAP Procedure
For patients that need gum disease treatment, there is now a way for them to repair their gum health without undergoing any painful cutting and stitching of the tissue. In fact, LANAP® is widely regarded as the highest standard of gum disease treatment. It is a quick procedure that can repair gum health in just six short steps:
Measuring pocket depth
Before we can repair gum health, we must measure how much loss of attachment has occurred. To accomplish this, a small probe is inserted between the teeth and gum line to measure the depth of the periodontal pockets.
Removing the bacteria
The next step to repair gum health is to remove any bacteria and diseased tissue from the area. This is done using a laser rather than a blade, as is used with traditional gum disease treatment. Mill Valley patients will experience less pain this way.
Removing calculus deposits
Ultrasonic scalers are then used to remove calculus deposits from underneath the gum line.
Forming a blood clot
The laser will make a second pass over the area to stimulate bone, root, and soft tissue. The laser also causes the blood to clot and form a tight seal around the tooth. In this way, LANAP® can create a safe environment for the repair of gum health to occur.
Tissue compression
The next step in the repair of gum health is to recompress the tissue against the tooth. This is done without using sutures.
Adjustment of bite
During the final step in gum disease treatment, patients will have their bite adjusted and examined for signs of trauma.

LANAP® is a safe and pain free way to repair gum health. By using a laser rather than a scalpel to remove unhealthy tissue, patients will experience less discomfort and a smaller chance of infection. For more information on how to repair gum health in Mill Valley, contact Dr. Rachel Brinker to schedule a consultation today.
Meet Rachel Brinker, DMD
Periodontics and Dental Implants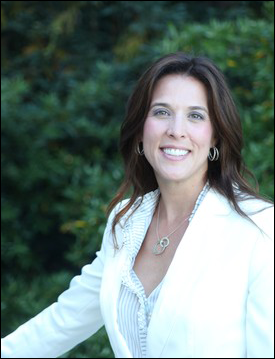 Dr. Rachel Brinker is originally from Kentucky and found her way to Marin County after attending dental school and residency on the East Coast. Rachel received her D.M.D. degree from the Harvard School of Dental Medicine in Boston, MA and her Certificate in Periodontics from the Columbia University College of Dental Medicine in New York, NY.
Dr. Brinker has been practicing periodontics in Marin County for the past 10 years, originally in San Rafael, and now in her solo practice in Mill Valley. She appreciates and enjoys cultivating the relationships she develops and maintains with patients and colleagues. Dr. Brinker values the collaborations periodontics allows her to foster on a daily basis while helping patients achieve their treatment goals in a relaxed, attentive manner.
Rachel enjoys being in the outdoors and taking advantage of all that Marin has to offer. She runs, hikes, mountain bikes, enjoys crossfit, the beach, and anything active. Rachel also loves exploring Marin, and so much more, with her two young daughters, Sienna and Sabrina.
Have Questions? Send Us An E-Mail!
Mill Valley Location
655 Redwood Highway, Suite 110
Mill Valley, CA 94941
Novato Location
1805 Novato Blvd., Suite 5
Novato, CA 94947